Despite Sgor's RM2.8b reserves, Klang council says "no money"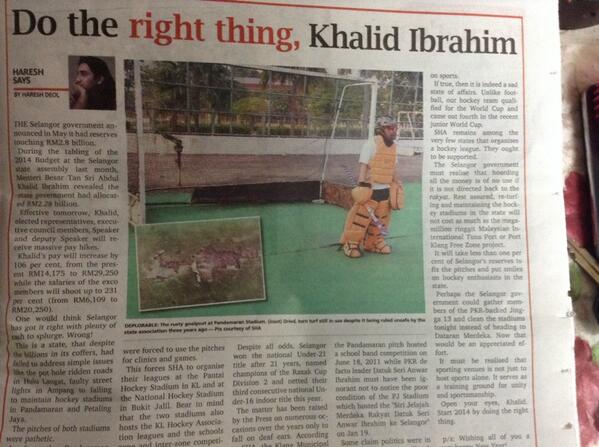 While the Selangor government boasts a reserve of RM2.8 billion, the Klang Municipal Council claimed it has no funds to repair the Pandamaran hockey stadium.
Even more shocking is that the council had requested allocation from the state and federal governments in the past only for their request to be shot down.
The Malay Mail's Gho Chee Yuan spoke to the council's corporate department director, Dahwari Daud.
"We have plans but lack the funds to implement them.
"Our applications (for funds) were rejected last year but we will continue to apply for an extra allocation from the state and federal governments to upgrade the Pandamaran stadium."
Read the full report
here
.
Dahwari was asked to respond to the 'Haresh Says' column in The Malay Mail yesterday headlined "
Do the right thing, Khalid Ibrahim
". The column highlighted the poor condition of the Pandamaran and Petaling Jaya hockey stadiums.
On a brighter note, the PJ hockey stadium will see a new turf as the PJ City Council has confirmed setting aside some RM1.8 million for the project which will start sometime this year.
HD says:
It is all about priorities.