So who actually runs sports in Malaysia: NSAs or NSC?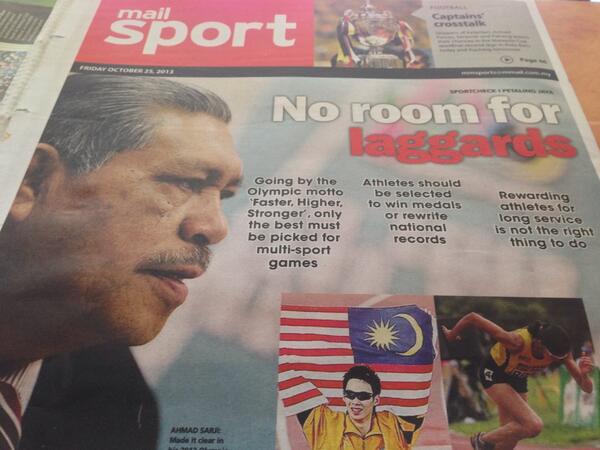 lag·gard
noun
plural noun: laggards
1.
a person who makes slow progress and falls behind others.
That was the word published on the backpage of The Malay Mail today.
It is regarding chef de mission Tun Ahmad Sarji's findings at the 2012 Olympics in Beijing.
Meanwhile, The Malay Mail sports editor Tony Mariadass had this to say:
The National Sports Council (NSC), who are grooming athletes through their Pelapis (back-up) programme, have requested Malaysian Athletics Federation (MAF) to include nine of their interns under category B.

But this is a peculiar situation because MAF, as the governing body of athletics, should overseeing development as they know the performance of the athletes well.

NSC should engage MAF fully in their programme or have the body run the programme for them because, after all, they are the experts.

In fact, several sports associations have given up development because NSC have taken over the role. This situation needs to be revisited to ensure that sports associations are held accountable for the rise and fall of their respective sports, not NSC.
I will not blame the athletes. If I were to be an athlete and were to be given a choice, I would surely want to compete.
But this whole episode has certainly opened the eyes of several quarters - to what many have been stating in the past: So who actually runs sports in Malaysia: the national sports associations (NSAs) or the National Sports Council (NSC)?
For the record, NSAs are the governing bodies of a particular sport in the country and are recognised by both the Olympic Council of Malaysia and by the international sports bodies.
The NSC is merely the funding arm of the Youth and Sports Ministry.
HD says:
If NSAs were financially independent, they wouldn't need to worry about any form of interference.